The Rainwrap, the original waterproof skirt.
Combat the rain with the original Rainwrap, wrap-around waterproof rain skirt. A perfect alternative to waterproof trousers, it is blissfully easy to take on and off without the palaver of pulling over shoes. To put on simply, wrap it around like an apron with the reflective strap to the back.
The Rainwrap keeps your legs dry cycling, walking and on a scooter!
For instance, if you commute home cycling and it suddenly starts pouring with rain, wrap the Rainwrap around your waist and protect your jeans! Quick and efficient. Plus, it is also great as an extra layer against the wind and cold.
The Rainwrap comes with a garter to prevent it from riding up in the wind. Also, the garter can be used to fasten the Rainwrap in a tube shape so you can carry it around easily, wet or dry. Just Wrap n' Roll!
For instructions on how to use the garter click here.
The Rainwrap:
- is high waisted to avoid gaping.
- can be used on bikes with a cross bar.
- can be used as a picnic/festival blanket for those damp lawns and fields!
- folds away quickly and easily!
- Noiseless, waterproof (10,000mm) fabric, lovely soft handle.
- The Rainwrap is suitable for men as well as women!
"The rainwrap has arrived and it is fabulous! I absolutely love it and it fits very well." - Jenny
"I have the rainwrap already and I love it. It feels great, works wonderfully, and is the best piece of raingear I've ever purchased." - from our anonymous questionnaire
You can find the sizing information table in the "size information" tab.
Have a look at some of the many uses here:
Size Information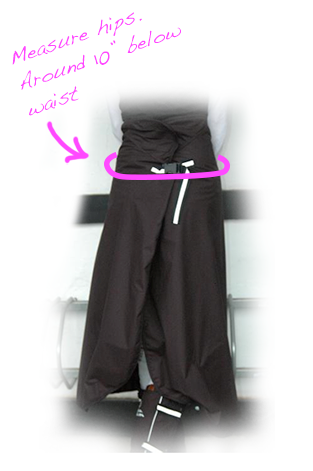 Rainwrap
measurements
in cms
Hip Size
Length
Petite
up to 90
87
Small Short
up to 101.6
91.5
Small
up to 101.6
96.5
Medium
up to 109.2
96.5
Large
up to 114.3
96.5
XL
up to 127
96.5
Large Short
up to 114.3
91.5