Expandable Pregnancy Jacket, The Dublette ®
The Dublette is an elegant, light weight, waterproof & expandable pregnancy jacket designed to expand over a bump and/or bulky clothing. When the baby has hopefully arrived safely, the jacket can be cinched in and great for outings to the park.
When the bungees on the back and down the sleeves are tightened, the Dublette takes on its most elegant form with a cinched waist and fishtail swing at the back. The fishtail can also be adjusted to create a gathered, rounder shape by pulling the bungees at the bottom of the jacket. It acts as protection against splash back from the road and enabling one to sit down on wet surfaces.
The entire back panel of the Dublette can also be opened out to assume a swing coat look by undoing the fasteners at the back which are made from hand selected recycled inner tubes. We must point out that Georgia in Dublin Team makes the fasteners by hand from bicycle inner tubes.
In addition, the Dublette has a detachable cape which you can wear separately to help keep rain off other items of clothing. And for even more high visibility, we would recommend the orange or pink high viz jacket. They are both very efficient to always be seen in the dark but also much fun!
Other features of the Dublette:
– Mesh lining with inside pocket
– Sealed seams
– Storm flap covering zip
– High visibility detail down sleeves and back
– Adjustable integrated hood
– Detachable cape
– Pockets in side seams
– Underarm ventilation zips
– Noiseless, waterproof (10.000mm) fabric. Lovely, soft handle.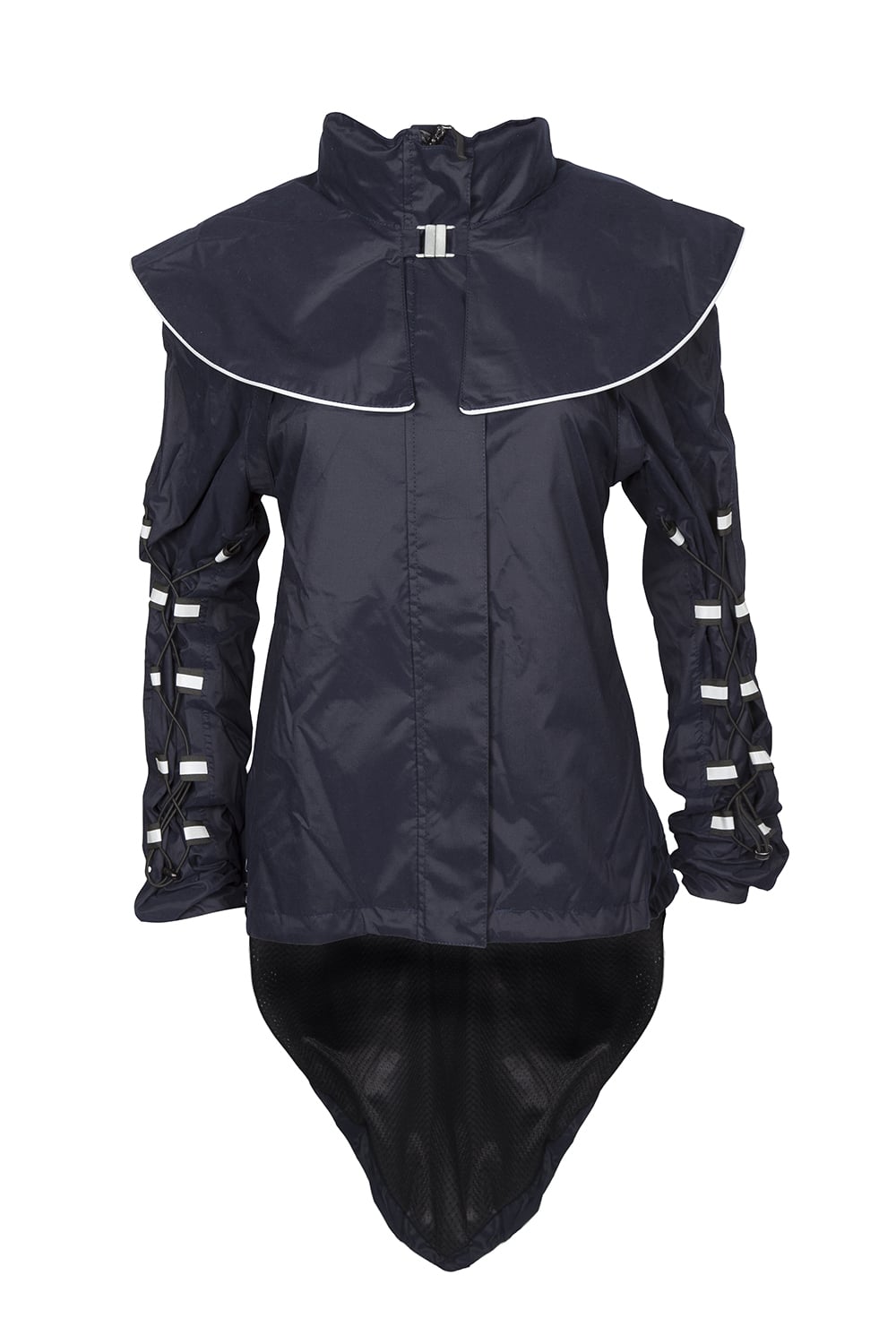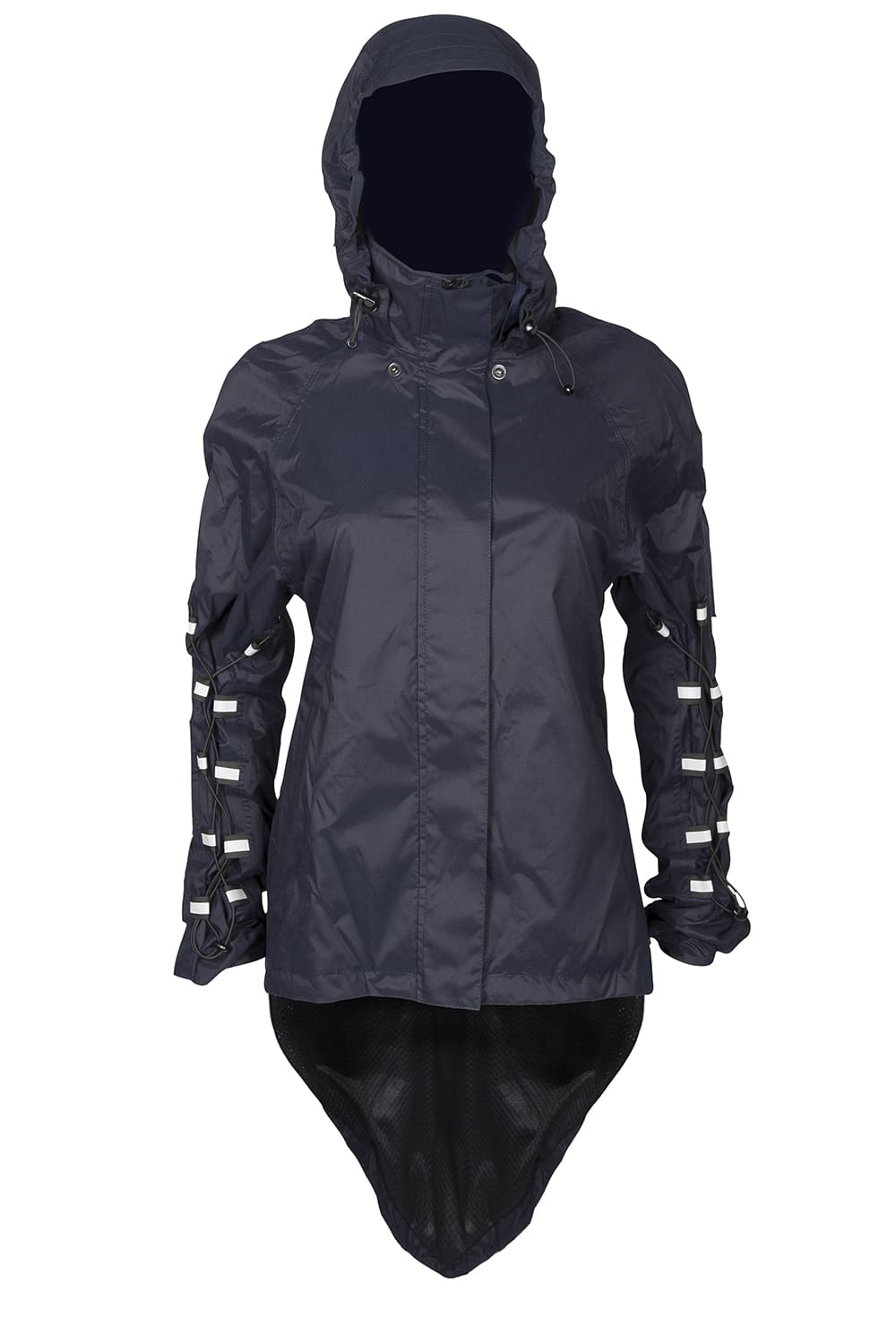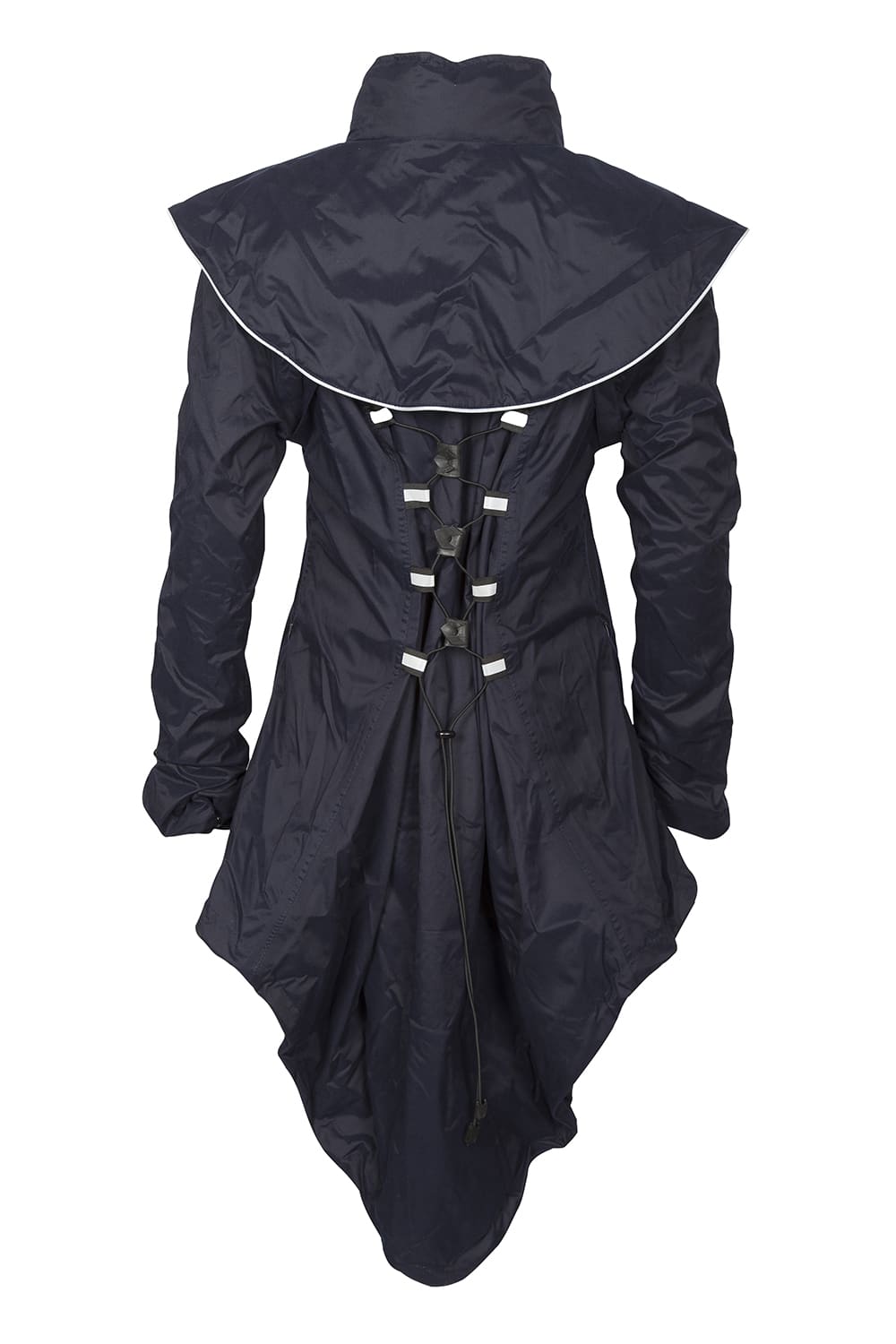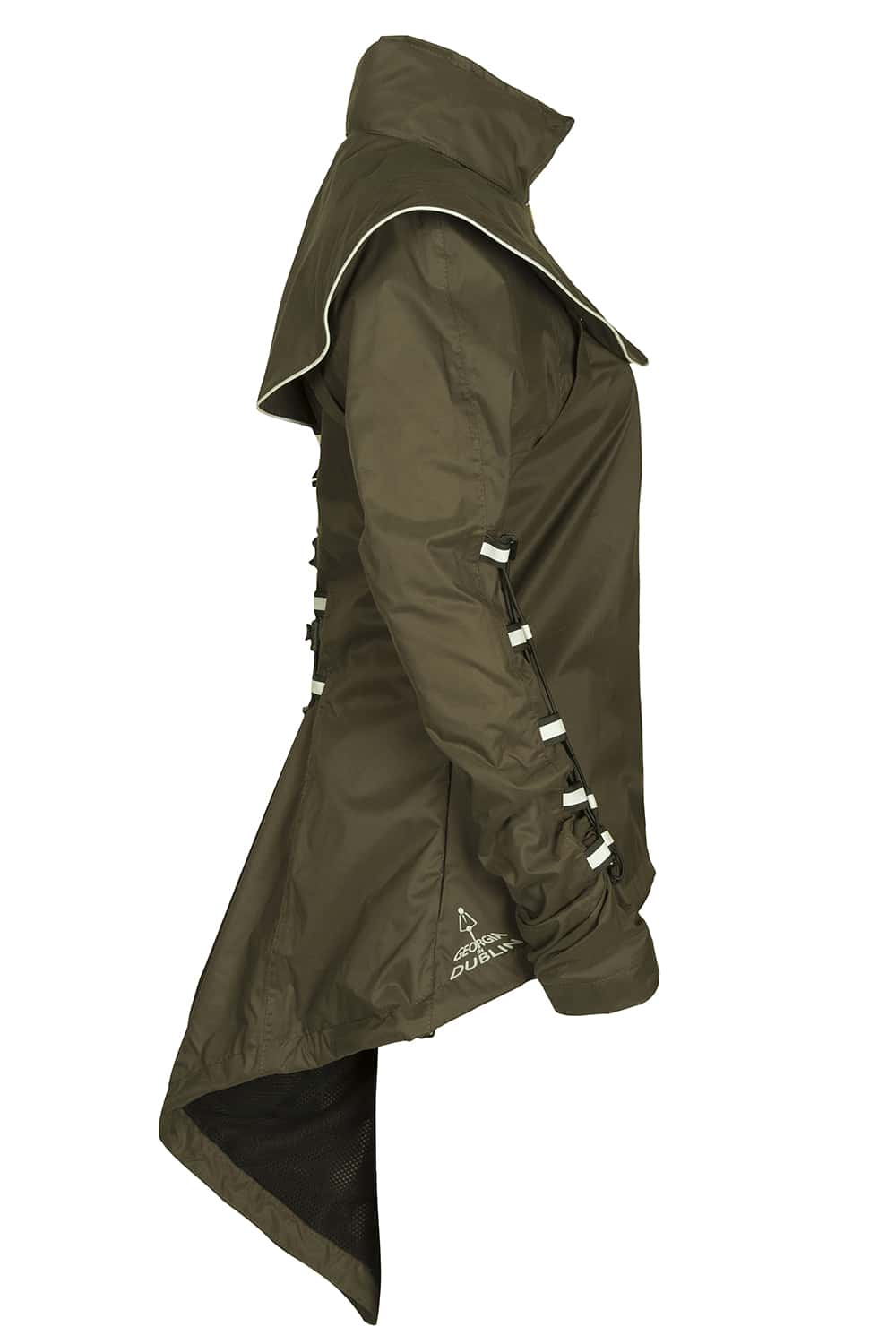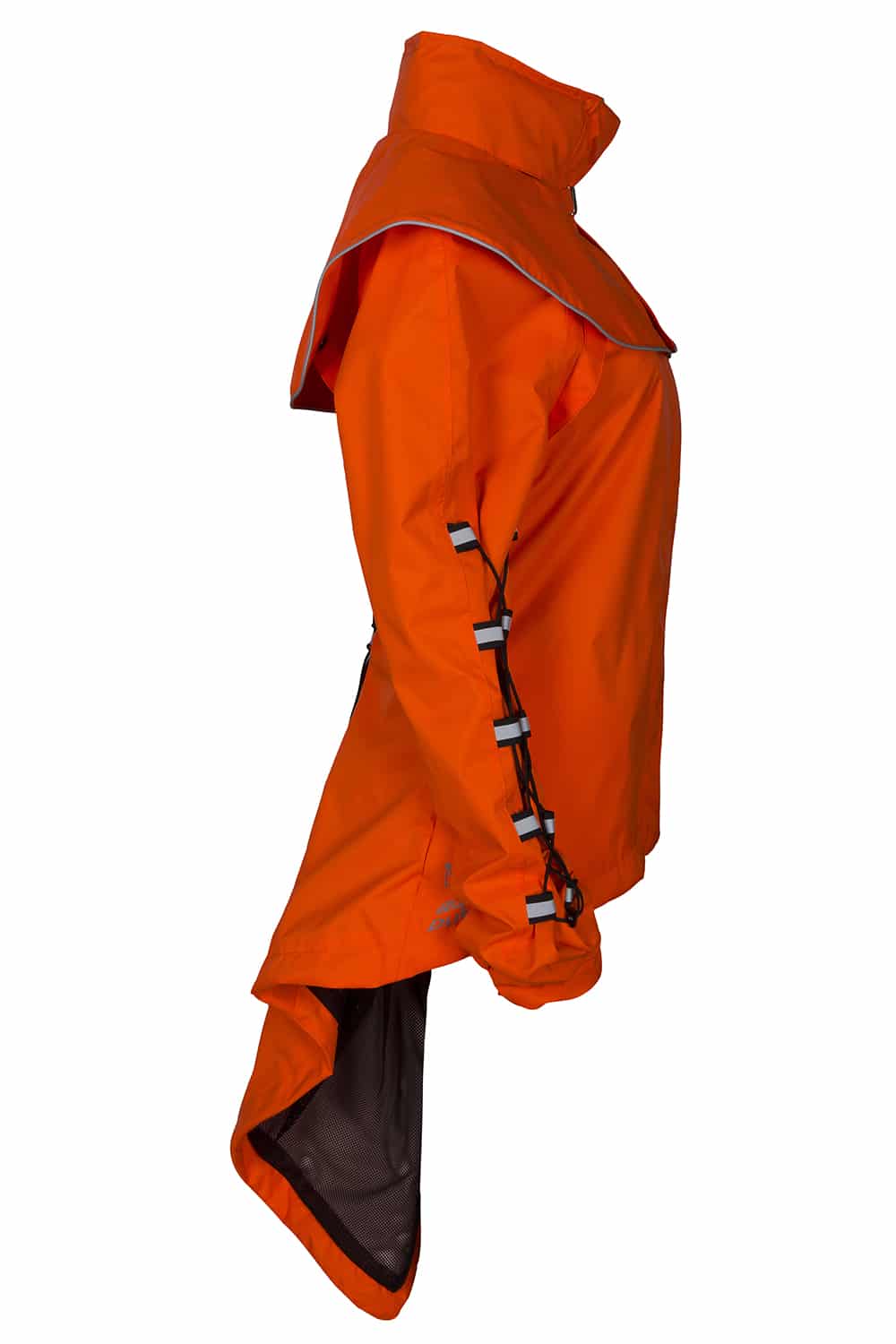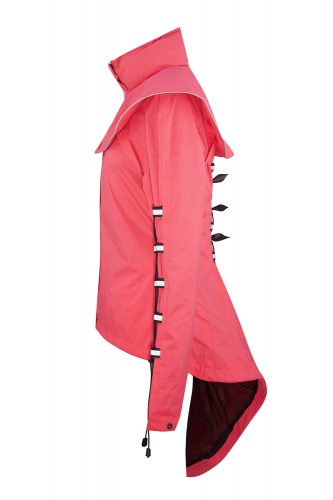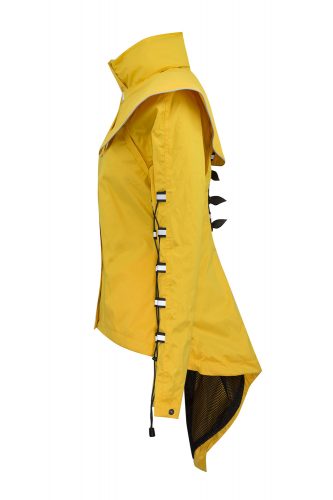 Size Information
Dublette
measurements
in cms
Petite
UK 4 – 8
Medium
UK 8 – 14
Large
UK 16 – 20
Extra Large
UK 18 – 24
Collar Height
7.5
7.5
9.5
10
Shoulders
41
46
56
64
Length at front
zip length
56
56
56
81
Length at back
neck to waist
90
104
104
107
Sleeve length
from underarm seams
40
53.5
53.5
50
Max sleeve width
34
49.5
52
50
Min chest width
70
84
110
129
Max chest width
100
142
186.2
205